Books
Soft Targets and Crisis Management: What Emergency Planners and Security Professionals Need to Know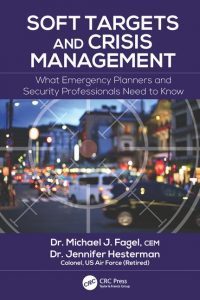 Uniting the best of Michael Fagel and Jennifer Hesterman's books in the fields of homeland security and emergency management, the editors of this volume present the prevailing issues affecting the homeland security community today. Many natural and man-made threats can impact our communities—but these well-known and highly respected authors create order from fear, guiding the reader through risk assessment, mitigation strategies, community EOC planning, and hardening measures based upon real-life examples, case studies, and current research in the practice.
As terrorist attacks and natural disasters continue to rock the world, Soft Targets and Crisis Management emphasizes the vulnerability of soft targets like schools, churches, and hospitals, and presents the methodology necessary to respond and recover in the event of a crisis in those arenas.
---
Crisis Management and Emergency Planning: Preparing for Today's Challenges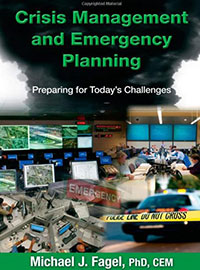 Emergency managers and officials have seen a tremendous increase in the planning responsibilities placed on their shoulders over the last decade. Crisis Management and Emergency Planning: Preparing for Today's Challenges supplies time-tested insights to help communities and organizations become better prepared to cope with natural and manmade disasters and their impacts on the areas they serve.
Author and editor Michael J. Fagel, Ph.D., CEM has more than three decades of experience in emergency management and emergency operations. He has been an on-site responder to such disaster events as the Oklahoma City Bombing and the site of the World Trade Center in the aftermath of 9/11. He is an experienced professor, trainer, professional, and consultant and has pretty much seen it all.
The book delves into this experience to present advanced emergency management and response concepts to disasters not often covered in other publications. It includes coverage of planning and preparedness, public health considerations, vulnerability and impact assessments, hospital management and planning, sporting venue emergency planning, and community preparedness including volunteer management.
Contributions from leading professionals in the field focus on broad responses across the spectrum of public health, emergency management, and mass casualty situations. The book provides detailed, must-read planning and response instruction on a variety of events, identifying long-term solutions for situations where a community or organization must operate outside its normal daily operational windows.
---
Review
Mike Fagel demonstrates in his third textbook his on-the-job expertise as an emergency manager; as someone who has known Mike for many years, I highly recommend his approach and his concepts. He continues to pursue the professional development of the field of emergency management and this is demonstrated in his most recent work. Dr. Fagel is committed to using his real world "on-the-job" approach to making the rest of us safer.

— Edward Plaugher, Fire Chief (Ret.), Arlington County Fire Department, Arlington, Virginia
---
Dr. Michael J. Fagel's Book, Crisis Management and Emergency Planning, Receives Prestigious Honor for Its Contribution to the Security Profession
PRLog – Nov. 7, 2014 – BOCA RATON, Fla. — CRC Press is pleased to announce that author Michael J. Fagel was presented with ASIS International's Security Book of the Year Award for his book, "Crisis Management and Emergency Planning: Preparing for Today's Challenges." While the book was selected for 2013, the award was just recently announced at the 2014 ASIS International 60th Annual Seminar and Exhibits conference. The ASIS Security Book of the Year Award is co-sponsored by the ASIS Crime and Loss Prevention Council and the ASIS Information Resources Center, partly in commemoration of the 30th anniversary of the ASIS Library. The award recognizes the contributions of authors in the security profession. ASIS members comprise the committee, which considers and nominates security books published by ASIS members and subsequently reviews and rates them.
---
Principles of Emergency Management and Emergency Operations Centers (EOC)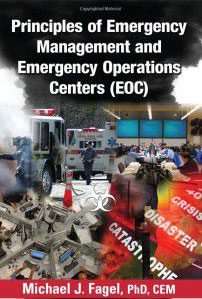 One of the key findings in many after action reviews following significant events is the need to ensure effective command, control, and coordination across a multitude of response and recovery agencies. Over the past many years, the emergency operations center (EOC) has become the symbol of effective and efficient emergency management.
Principles of Emergency Management and Emergency Operations Centers (EOC) provides a clear and up-to-date understanding of how an EOC should operate within the guidance of various federal and national programs. It discusses the processes and systems that must be considered in emergency planning and preparedness efforts. The culmination of more than three decades of experience, the text provides time-tested tips for those developing and revising emergency preparedness plans.
The book details the requirements for appropriate training and planning, both validated by a well-designed exercise program. Stressing the importance of consistency with the various national preparedness initiatives, it includes the latest developments and best-practices in the evolving field of emergency management.
---
Review
A true professional, Mike Fagel arrived at FDNY WTC Incident Command Post on Duane Street, a short distance from Ground Zero, as chaos was still not contained. He organized, directed, and cajoled until order again appeared in our health and safety efforts for the thousands of personnel struggling at rescuing and recovering the victims of 9/11. Many of the Ground Zero workers have their health still intact because of Mike's courage and efforts. The Fire Department was well served by his knowledge and expertise.

Charles R. Blaich, Deputy Chief FDNY, & Logistics Chief, WTC ICP
An essential tool that should be in every new emergency manager's tool belt and on every seasoned emergency manager's reference shelf.

Rick C. Mathews, MS, Director of the National Center for Security & Preparedness
---
Principles of Emergency Management: Hazard Specific Issues and Mitigation Services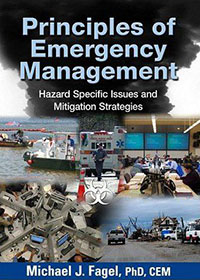 Principles of Emergency Management: Hazard Specific Issues and Mitigation offers preparedness and mitigation recommendations for advanced emergency planning. Because disasters are so unpredictable, advance planning is needed to effectively respond to and mitigate against the potential effects of such events.
Whether a disaster is natural or man-made, accidental or deliberate, the best way to protect the public is by implementing an integrated emergency management system incorporating all potential stakeholders through all phases of the event. As such, the book suggests best practices for drills, exercises, and pre-event team building and communication.
More than a dozen contributors offer their professional expertise on a wide variety of topics, including:
Emergency operations center management
Continuity planning of vital services in the aftermath of a disaster
The role of the public health official
Developing public-private partnerships
Specific types of disasters, including terrorism, agroterrorism, pandemics, and active shooter incidents
Mass care, sheltering, and human services
The special needs of children in disasters
Traditional and social media and their impact on emergency management
The book is a valuable planning resource for those tasked with managing operations to prepare for, mitigate, and respond to disasters.